Discover more from Some Meals
Writing on — and recs for — food and restaurants. Mostly in LA & NYC, sometimes elsewhere.
Over 1,000 subscribers
A family affair
Real home cooking from a mother-daughter duo.
Jersey City is on the come up. In fact, a friend who lives in The Heights told me they're calling her neighborhood "the new Williamsburg." With that comes great restaurants. These days, you're seeing food-obsessed Manhattan dwellers and Brooklynites hop on the PATH to Razza—an acclaimed pizzeria I've yet to try—and make the trip to sample seasonal goodies at Bread & Salt. There's another place that's worth the trek. I know because I ate dinner there last Sunday.
Saarim's brother Saaran was in town. Although he now lives in Virginia, the two of them are from Dhaka—and they were craving Bangladeshi food. Our usual go-to is Boishakhi, an eatery in Astoria that specializes in biryani, fish curry, chicken roast, tandoor meats, and other special-occasion foods. There are several other good Bangladeshi restaurants in Jackson Heights, such as Premium, which is known for its sweets, and Tong—a street cart that makes exceptional fuchka (the Bangladeshi answer to pani puri). But few places cook the kind of everyday food that Saarim and Saaran grew up eating at home. That's why Saarim was itching to try Korai Kitchen ever since he read about it in the Times.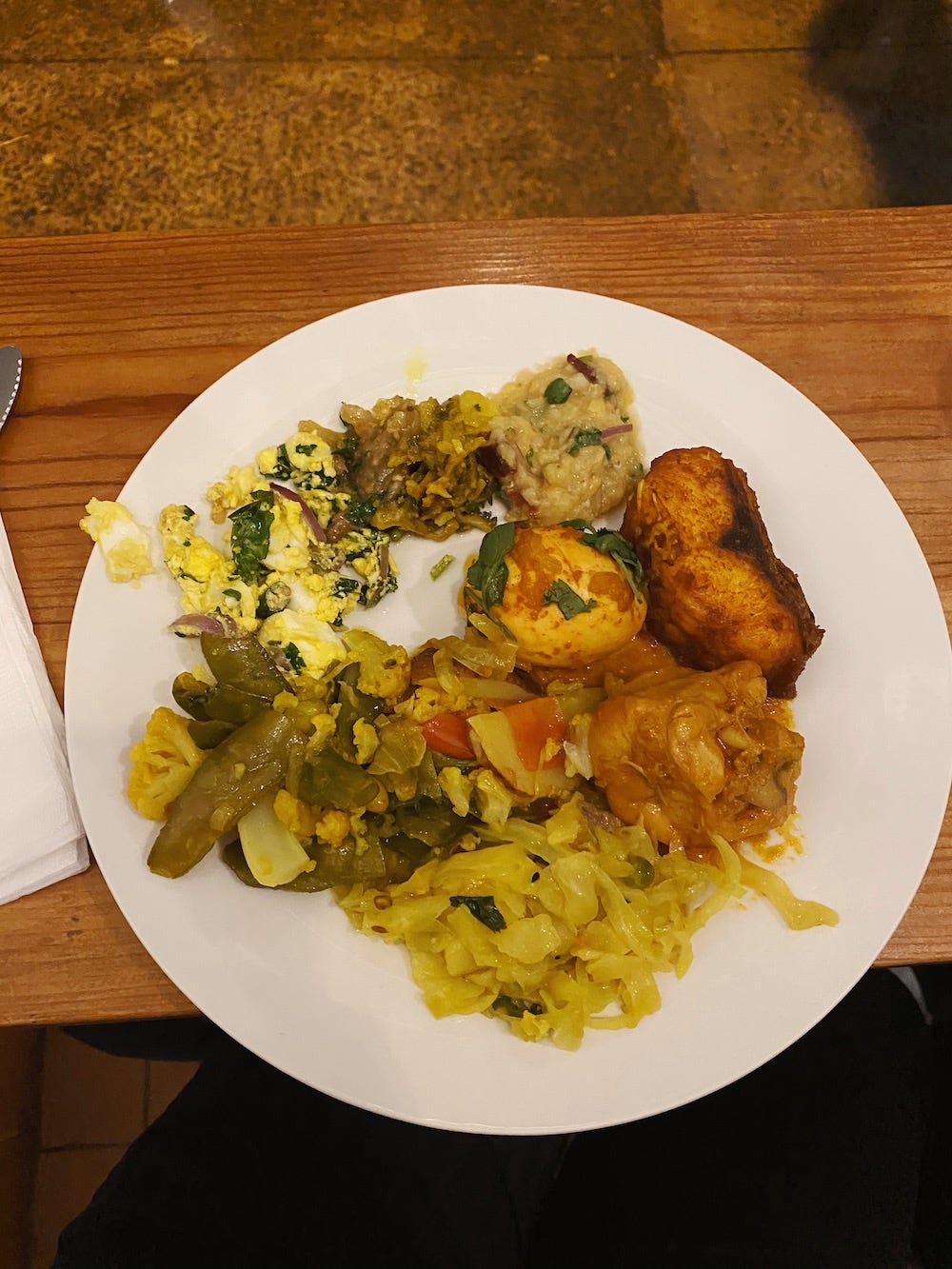 When we arrived, we were greeted gregariously by Nur-E Farhana Rahman, who co-owns the restaurant with her mother, the chef Nur-E Gulshan Rahman. "Is it your first time?" she asked excitedly, and we nodded. "Your first time having Bangladeshi food?" she clarified. "We're from Dhaka," Saarim assured her, and her smile deepened. "Oh! Welcome! We're so glad you're here," she said, as she shuffled us to a table. "My mom cooks everything fresh and homemade, so the menu differs every day," she explained, as a server brought us a plate of just-fried piyaju—onion fritters that bear resemblance to Jewish latkes. Fittingly, it was the first night of Hanukkah.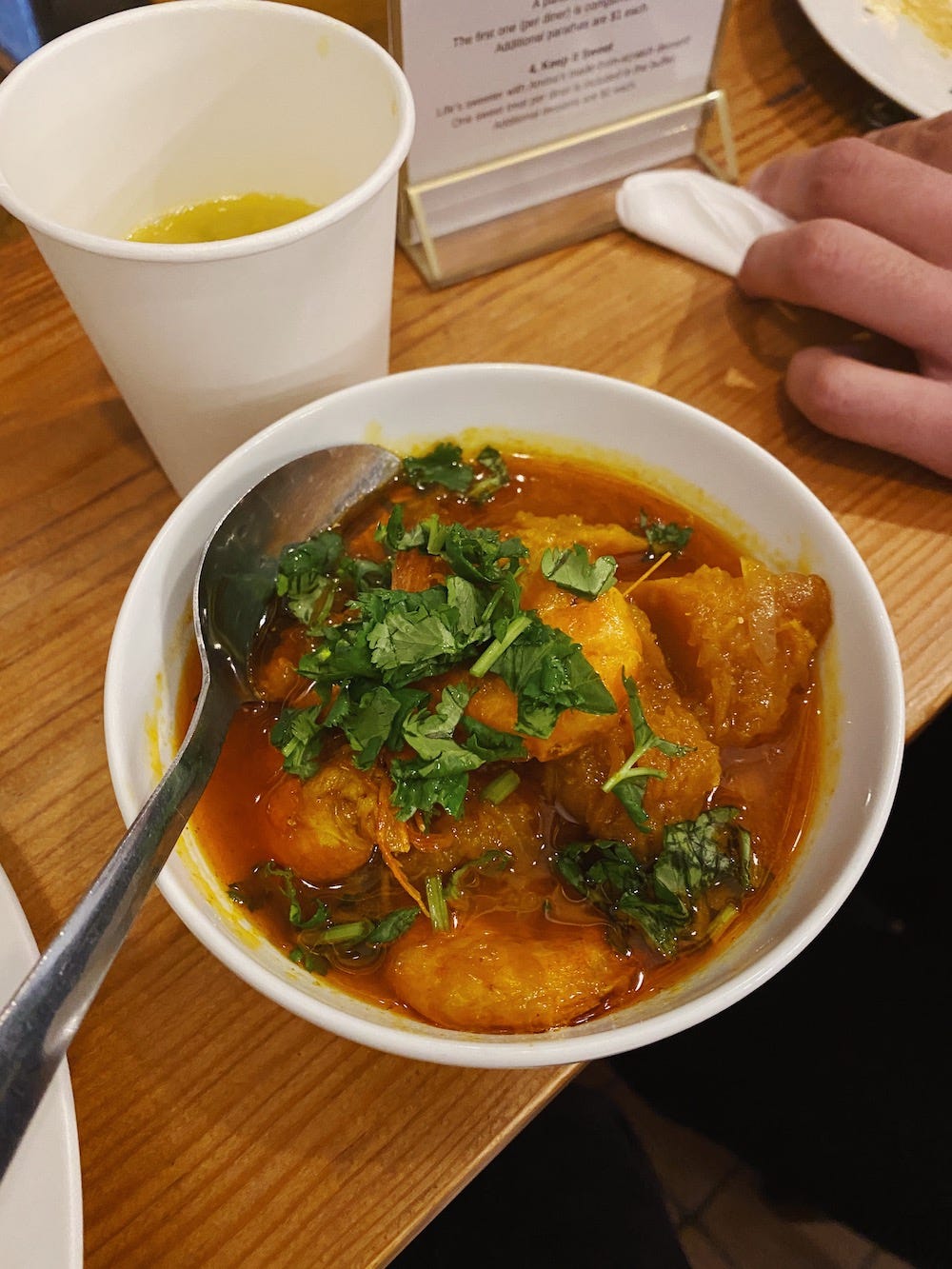 Next, we were to grab a plate and fill it with the myriad of offerings from the buffet. Nur-E Farhana shepherded us encouragingly ("before the next few parties arrive for their reservations"). Chicken curry, fried fish, bhorthas (mashes) of eggplant and bitter melon, stir-fried cabbage, lightly spiced cauliflower with peppers, egg curry, daal. That's just what ended up on my plate; there was more. As soon as we settled back into our seats, a bowl of peel-and-eat shrimp swimming in soft chunks of pumpkin—the evening's special—arrived on our table. "You want paratha?" Nur-E Farhana inquired, and we said yes, in unison. This is the kind of food that requires mopping up, and the flaky rounds of pull-apart starch were the perfect vehicle to do so. We ate mostly in silence, went for seconds, and somehow made room for dessert.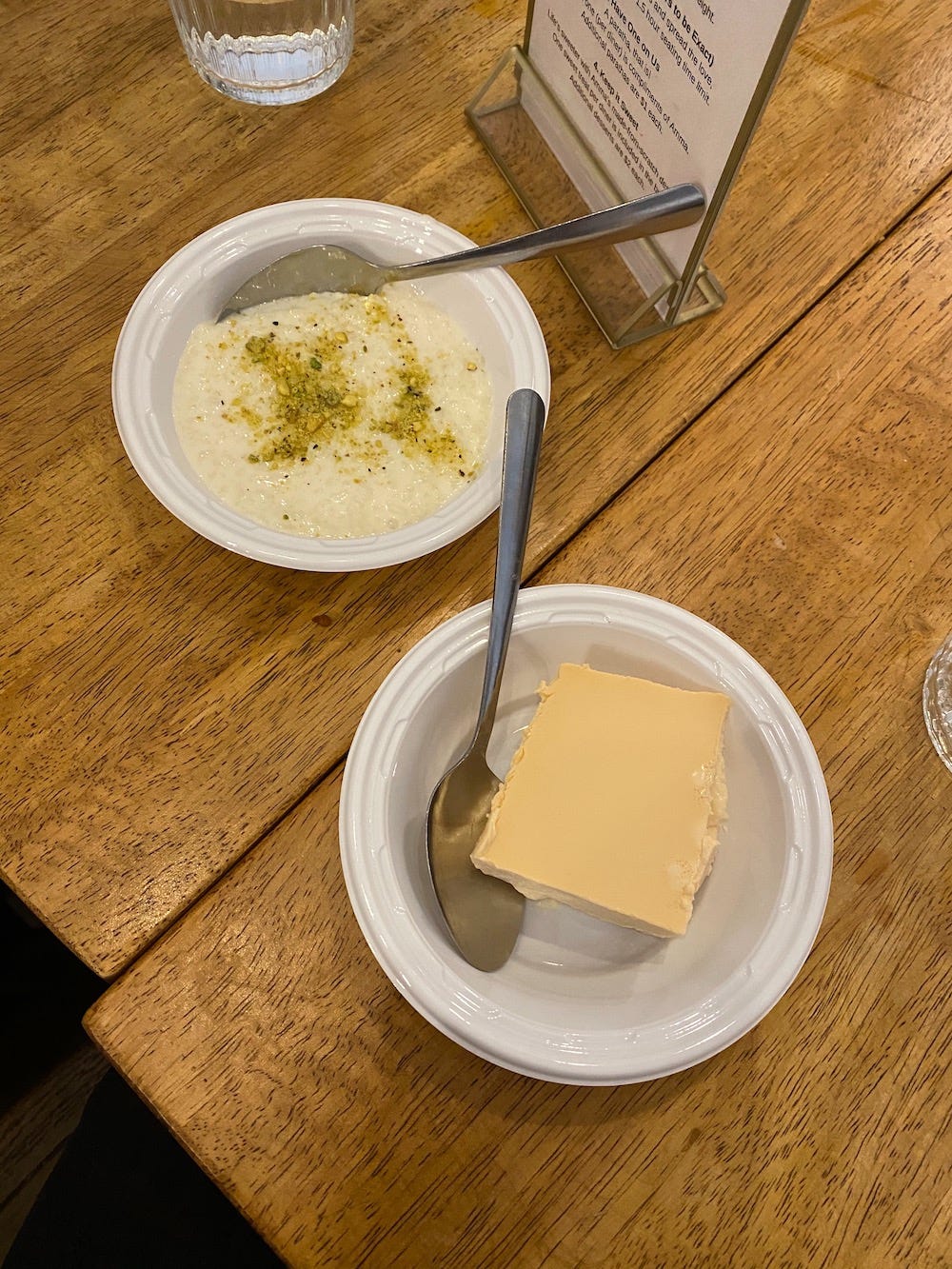 As we enjoyed bites of mishti dhoi (a fermented sweet yogurt dish that resembles the top part of a cheesecake) and phirni (rice pudding) alongside hot cups of cha, the chef made her rounds. "Did you like it?" she asked, and we assured her that we did. "We came all the way from Brooklyn," Saarim stressed. Nur-E Gulshan's eyes softened. "You don't know how much that means to me," she replied.
The cost of all of that for three, plus the warm feeling of home for two, is just under $70. I call that a bargain.
👩‍👧
Korai Kitchen
576 Summit Ave, Jersey City, NJ 07306
(201) 721-6566
---
This week's reads
---
If you're into Some Meals Considered, tweet about it to spread the word!

Find all previous posts here.

Was this email forwarded to you? Sign up for real.

**Housekeeping** If you found me in your spam folder or your Promotions tab, please mark this address as 'not spam.'