Discover more from Some Meals
Writing on — and recs for — food and restaurants. Mostly in LA & NYC, sometimes elsewhere.
Over 1,000 subscribers
A brilliant brasserie arrives in Brooklyn
Move over, Balthazar.
Balthazar isn't very good anymore. I knew it the moment I drove my spoon into a dried out and sour half-grapefruit during breakfast hours many months back. I was always more of a Pastis girl myself, having grown up in the West Village. Now that's back on the scene, and while it's not the same as it was on the corner of 9th Avenue and Little W 12th St, it's certainly not bad. Pastis 2.0 still has that magic glow, those recycled subway tiles, the colliding energy of Meatpacking grit and downtown glamour. But let's face it, the aesthetic is tired. Timeless, sure, but tired. The brasserie has been begging for a reinvention. And while Frenchette, from the famed McNally vets Riad Nasir and Lee Hanson, was a home run, it's kind of small. Dare I say more like a bistro than a brasserie?
So when I heard that Jake Leiber and Aiden O'Neal of one of my all-time favorite restaurants (Chez Ma Tante) would be taking a swing at this, I was excited. They took their time testing recipes and getting set up in the booming ground floor of the Wythe Hotel, formerly home to Reynard. It was no small feat: both the space and the menu are much bigger than CMT's, and while they are situated a stone's throw away from their quiet Greenpoint corner, their new digs are smack dab in the flashy, tourist-filled section of north Williamsburg. Finally, in the first week of December, Le Crocodile was open.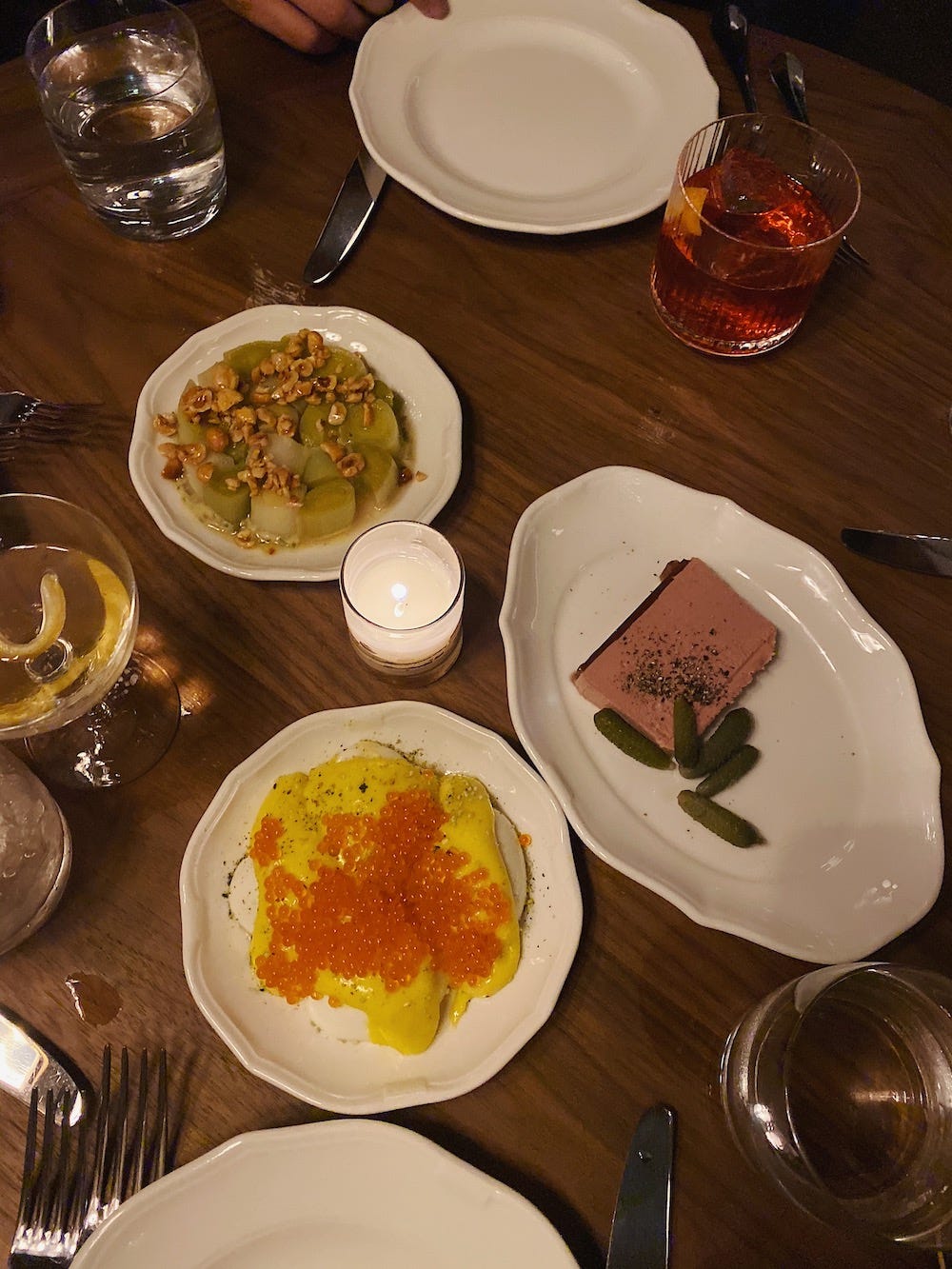 Boy did they succeed. What's funny is that with all the year-end lists being published, I've been considering the best New York restaurants of 2019. I thought F&F, for sure, but that's a slice shop. I haven't yet made it to Llama San, and while Pastis was super buzzy, it was ultimately nothing new or extraordinarily delicious. Rezdôra made waves, but I'd still pick Lilia or I Sodi, any day. There are others I could call out but the truth is that at the eleventh hour, Le Crocodile arrived on the scene and hit the ball out of the park. It really, really hits.
These guys know their way around a pâté, so you'll want one of those. When I saw the oeufs mayonnaise chaud covered in trout roe on Instagram, I knew I'd have to have that and I wasn't wrong. There are perfect pickled mussels; plump, savory, and bright. Thick rounds of luscious leeks covered in hazelnut vinaigrette. A contemporary, salad-like approach to escargot, with a vibrant broth and twirls of fennel in place of pools of butter and garlic. And my favorite dish of all: Sardinian pasta with tomato and cod—a little bit tart, a little bit sweet, and a lot of umami. It tastes like a summer lunch in coastal Italy, but instead it's the dead of winter in New York and you feel lucky.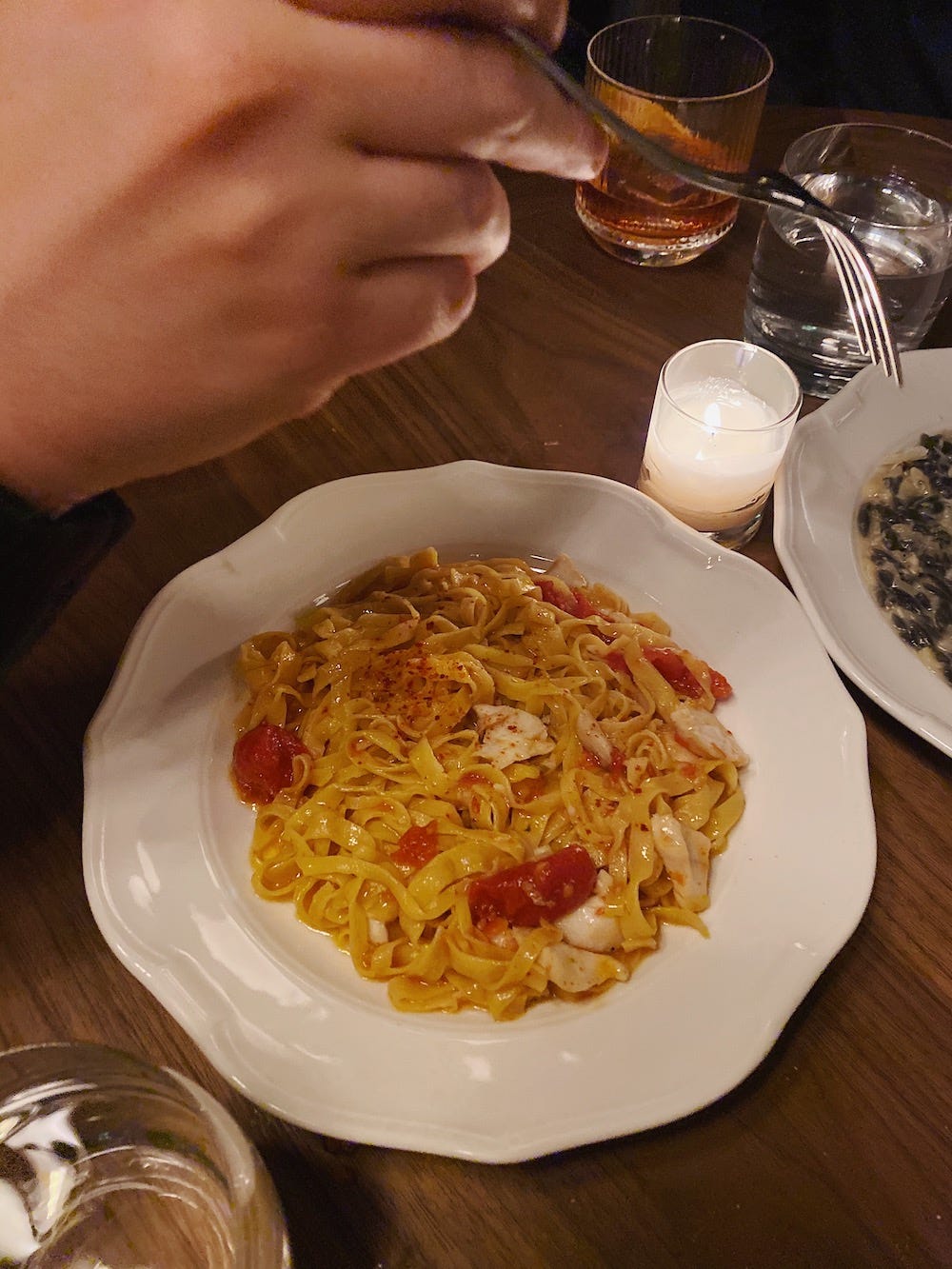 But holy hell, those fries. They're everything you want, need, desire. Size-wise, crisp factor, golden levels, check. If you've been to Chez Ma Tante, you know they make the best aioli in the game, and just dipped in that they're A-OK. But they're best after having soaked up the jus of the juicy grilled chicken served under a roughly chopped salsa verde (Leiber worked at Barbuto for many years). And they're definitely not bad when wiped through au poivre, sidling up to steak.
We were so full we didn't have room for dessert, but Le Crocodile offers 12 in total, which makes me so happy. I want to try them all. Madeleines and profiteroles, creme brûlée and chocolate pot du creme. Maple pie. Tart au citron. There's more! I'll get to them, soon.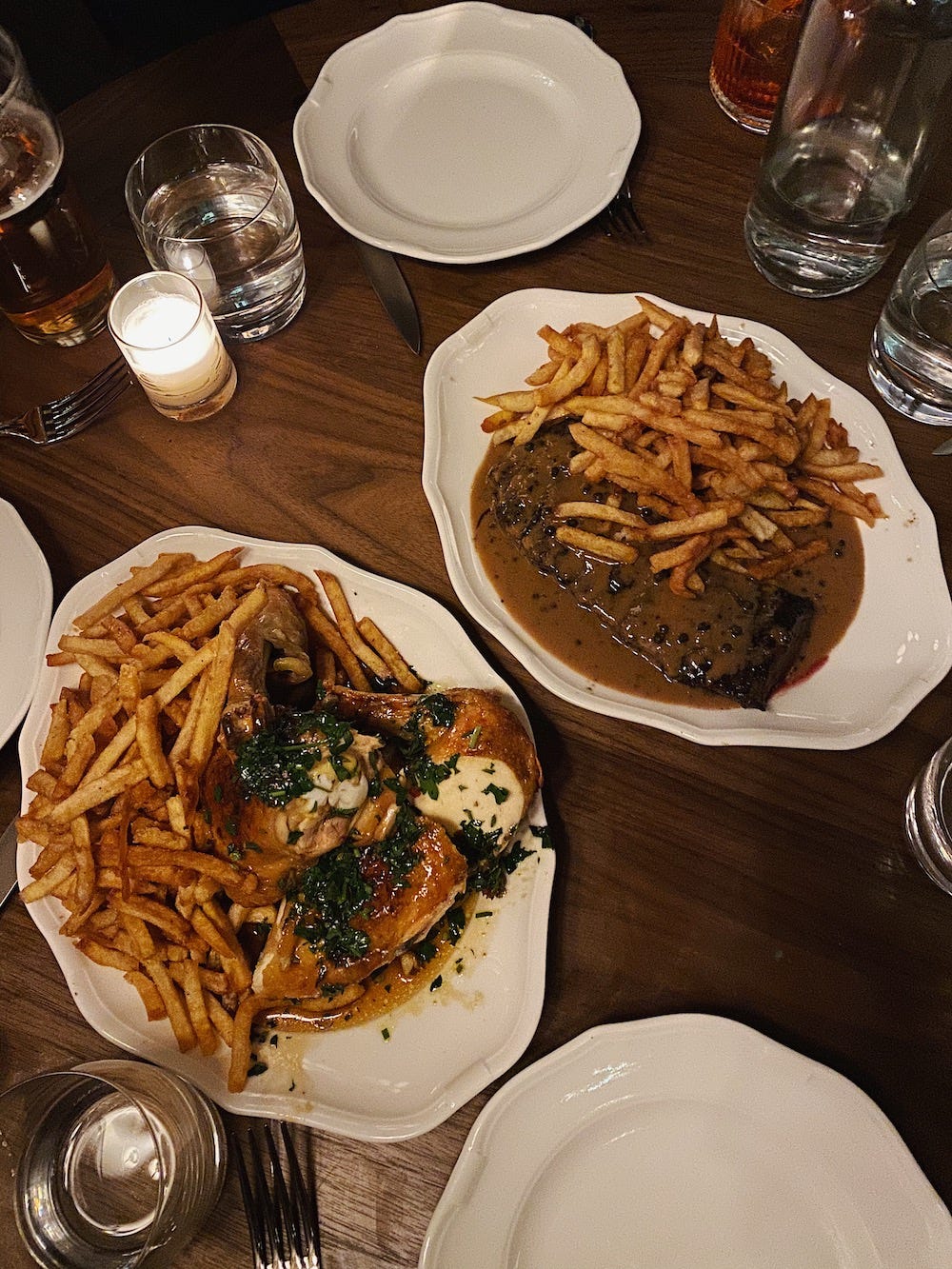 All that, in a stunningly handsome room with ceilings so high, warm vibes abound, cute but not cutesy white coats on every server, and martinis served with a personal carafe of extra libation—on ice.
Don't run, walk. The Balthazar of Brooklyn is here... and it's better. 
🐊
Le Crocodile
80 Wythe Ave, Brooklyn, NY 11249
(718) 460-8004
---
This week's reads
---
If you're into Some Meals Considered, tweet about it to spread the word!

Find all previous posts here.

Was this email forwarded to you? Sign up for real.

**Housekeeping** If you found me in your spam folder or your Promotions tab, please mark this address as 'not spam.'